International Conference on Interactive Digital Storytelling 2023
Theme: Traversing Boundaries, Barriers, and Borders
November 14-17, 2023
KIITO Design and Creative Center Kobe
Kobe, Japan
Art Exhibition
Curatorial Theme: Traversing Boundaries, Barriers, and Borders
Venue
KIITO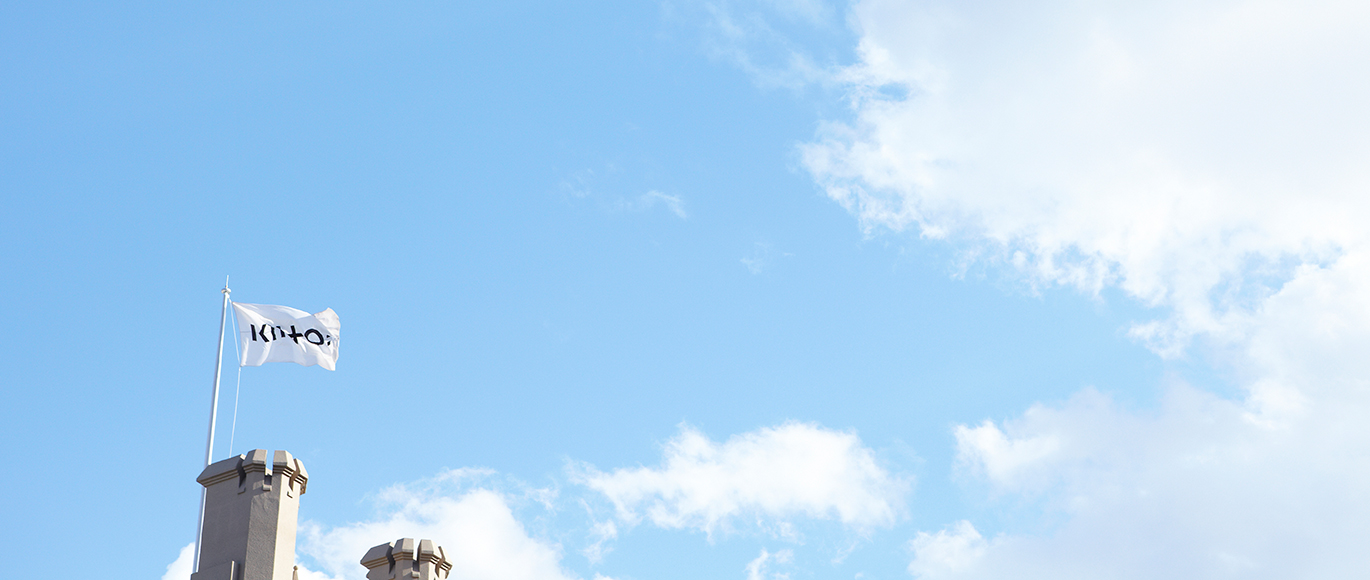 Design and Creative Center Kobe
Curated by
Iva Georgieva
Assistant Professor
Philosophy of Science Department, Institute of Philosophy and Sociology
Bulgarian Academy of Sciences /
Design Lead
Studio Bahia
&
Mondheera Pituxcoosuvarn (Ampere Qiu)
Assistant Professor
Social Intelligence Laboratory, College of Information Science and Engineering, Ritsumeikan University
About ICIDS
The International Conference on Interactive Digital Storytelling (ICIDS) is the premier conference for researchers and practitioners in game narrative and interactive storytelling. ICIDS is the main academic conference of the Association for Research in Digital Interactive Narratives (ARDIN).
Artworks
Artwork name
Sisters: An interactive Audio-based Mobile AR Experience

Artist names
Lissa Holloway-Attaway, Jamie Fawcus, Mio Jernström

Brief description
Sisters, is an interactive audio narrative experience for a single interactor exploring and re-constructing an abusive family situation. It is constructed as a mobile AR experience using graphic illustrations on a deck of player cards as trigger images to activate the story content.
AR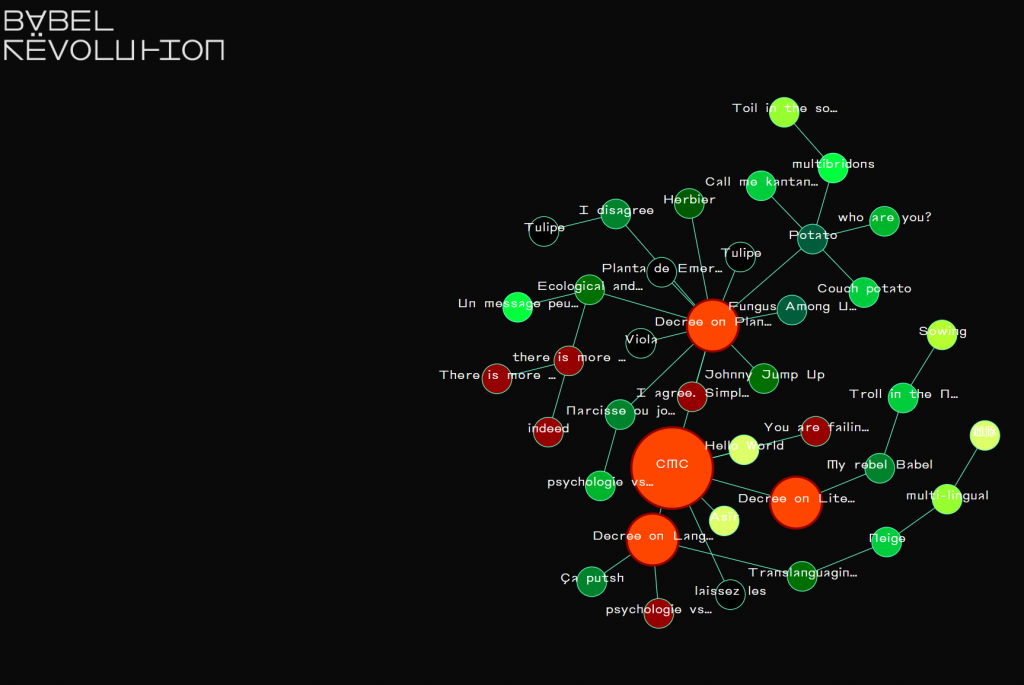 Artwork name
BⱯBEL RËVOLUㅏION

Artist names
Serge Bouchardon, Isabelle Cros, Erika Fülöp, Simon Renaud and students from the University of Technology of Compiègne: Florestan Biaux, Benoît Chevillon, Lucas D'Aquaro, Solène Desvaux de Marigny, Ismaïl Kadiri, Mathilde Lange, Claire Malgonne and Gabrielle Van de Vijver.

Brief description
BⱯBEL RËVOLUㅏION is an ecopoetic" (Buekens, 2019) online participatory work in favour of diversity from an ecological, linguistic and cultural point of view. The storyline, which provides a narrative framework to the contributions, presents a dystopian world inspired by Orwell's 1984 and Damasio's Hauts® Parleurs®. A resistance movement is developing against a political regime that applies a monolingual policy impoverishing both language and the natural world, contributing to the disappearance of words and the reality they shape and reflect. In this scenario, rebels seek to overthrow a dictatorship in which profit has prevailed over ecology, and in which a single way of thinking and speaking imprison citizens more than jails, since "the limits of my language mean the limits of my world", as Wittgenstein (1922) observed. Everyone can react by supporting or resisting the measures taken. These messages instantly interconnect into a network, creating an organic and dynamic graph. Will this polyphonic collective of dissidents succeed in overturning monoculture and monolingualism? It depends on you!
URL : https://babel.utc.fr/
Artwork name
Our Vacation

Artist names
Tim Hutchings

Brief description
Our Vacationan analog gamelike activity built around a found book ofvacation photos. Key words from a variety of Great American Travel novelshave been added to the book–these are cut and taped onto the photos inthe books, creating contexts that are unique to each instance of the project.The book is designed to remain "geostationary" in a semi-public space;participants sit with the book, permanently change it, then maybe revisit itlater to see how others have modified it.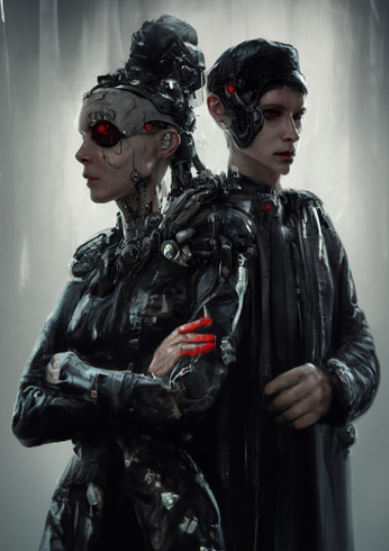 Artwork name
[Por]TrAIts: AI Characters + Their Microstories

Artist names
Mez Breeze

Brief description
'[Por]TrAIts: AI Characters + Their Microstories' serves as a compelling example of how art can facilitate the traversal of boundaries, barriers, and borders. It combines human artistic sensibilities with AI capabilities, transcending limitations often imposed by medium and technology. The digital book format allows for passive interaction, inviting viewers to engage with the work at their own pace. The use of Mezangelle—a hybrid language—ensures that the work is accessible and relatable to a global audience. It embodies the theme of "Traversing Boundaries, Barriers, and Borders" by offering a platform where art becomes the universal language and a more accessible type of interactive storytelling [a passive, slower type, as opposed to a more active, or frenetic type of interactivity as embodied in genres such as video games] serves as the bridge between disparate worlds.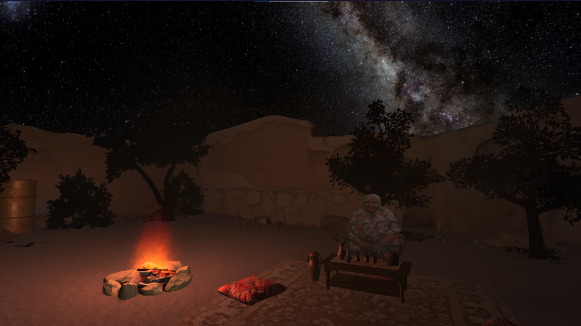 Artwork name
Desert Stars VR

Artist names
FELIPE CARRELLI

Brief description
The Sahara desert occupies one third of the African continent and is one of the most inhospitable regions on the planet. The region is dry enough to mummify corpses and kill bacteria. For centuries, Saharawis lived under these extreme conditions in the desert. In 2019, GalileoMobile carried out astronomy outreach activities in five Saharawi refugee camps to exchange astronomical knowledge and representations of the cosmos.
VR
Artwork name
Voices

Artist names
Christine Wilks

Brief description
Voices is an interactive digital fiction for building body image resilience. Hayley hates herbody and struggles with negative self-talk. Her diverse friends haveissues of their own too.By identifying as Hayley and making choices, the player may reflect upon and subtly altertheir own body image.
Interactive digital fiction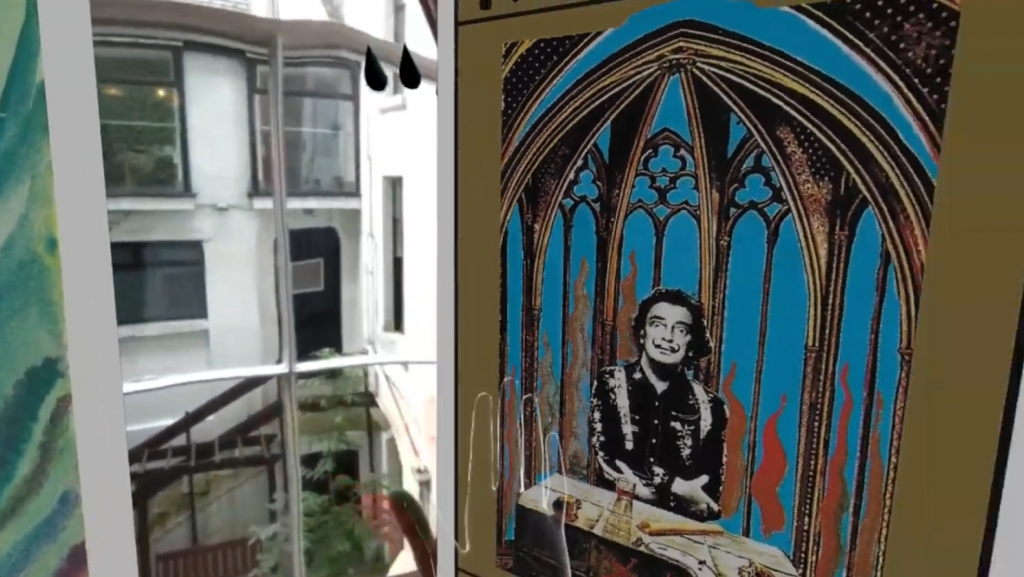 Artwork name
DreaMR: Exploring Dreaming with Mixed Reality

Artist names
Dr Svetlana Rudenko, Xianpeng Fu, Prof. Mads Haahr

Brief description
"DreaMR: Exploring Dreaming with Mixed Reality" engages with the human experience of dreaming through art, music and consciousness science. Using cutting-edge Mixed Reality (MR), we approach dreaming like surrealist paintings: experiences that reside halfway between the visible and the invisible. MR technology is uniquely suited for this purpose, because it positions the audience not within a virtual world (like VR technology does) but in a liminal space that blends the real with the un-real, the conscious with the unconscious, the physical world with the world of dreams. We created four interactive MR scenes for Meta Quest Pro headset, which will engage with dreaming in different ways. Each scene features an interactive 3D environment inspired by work art, music and narration. The audience member takes on the role of Dream Conductor of the scene, interacting with MR elements to activate layers of music, narration and visuals. Video demo Dreaming: Amy Beach and Alice Dali MR: https://youtu.be/O-iP8k8duY0
MR
Artwork name
Emil: A Hero's Journey

Artist names
Ohad Tadmor

Brief description
"Emil: A Hero's Journey" is a video game inspired by the testimony of the late Avraham Hartzook, the grandfather of the game's creator, and other testimonies of children who had to survive on their own during World War II in Europe. In the game, the player plays as Emil, a young Jewish boy, who is forced to embark on a journey in search of his father, who was taken from him by the Nazis. Throughout his journey, Emil overcomes challenges using his imagination, resourcefulness, and creativity.
Video game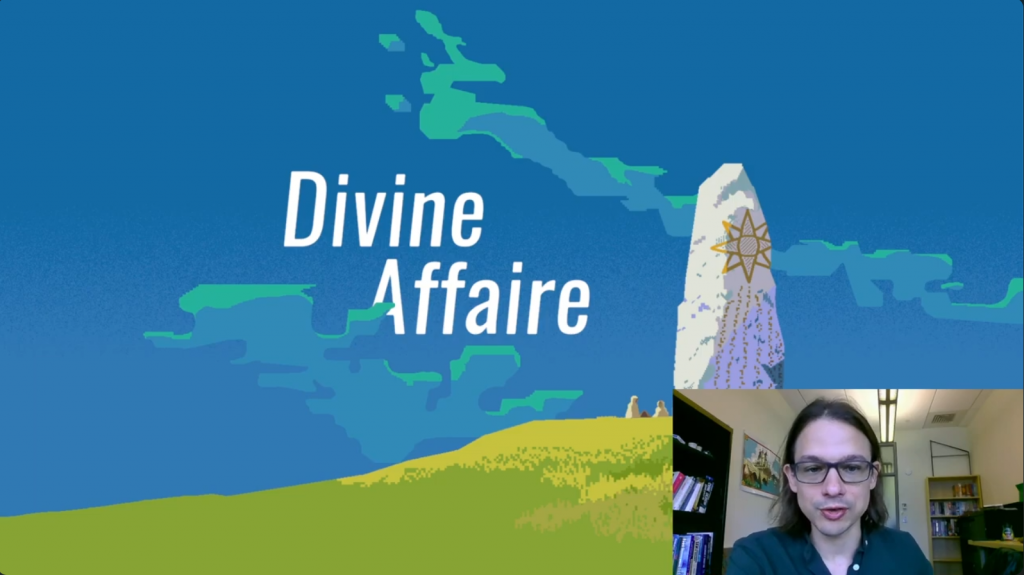 Artwork name
Divine Affaire

Artist names
Jonathan Lessard

Brief description
Divine Affaireis an emergent narrative and management game in which you embody a deitytrying to balance the (often contradictory) desires of your believers and your own (self defined)agenda. In a world driven by a complex and dynamic social simulation, the exact effects of yourinterventions are very difficult to predict. Can you live with the consequences of your choicesand actions? Meddle in human affairs at your own (ethical) risk!Divine Affaireis the current state of a research-creation project undertaken in 2018 aiming toexplore complex social simulation design for emergent narrative and gameplay. It is constitutedof three interdependent layers:SimToute, an attempt at simulating the social dynamics leadingto the neolithic revolution;Chroniqueur, an in-gameauto-generated encyclopedia of allsimulated events, andDivine Affaireper se, a game inviting players to discover and engage withthe lives of simulated characters; experiencing contingencies and dynamics of complexemergent systems.
Video Game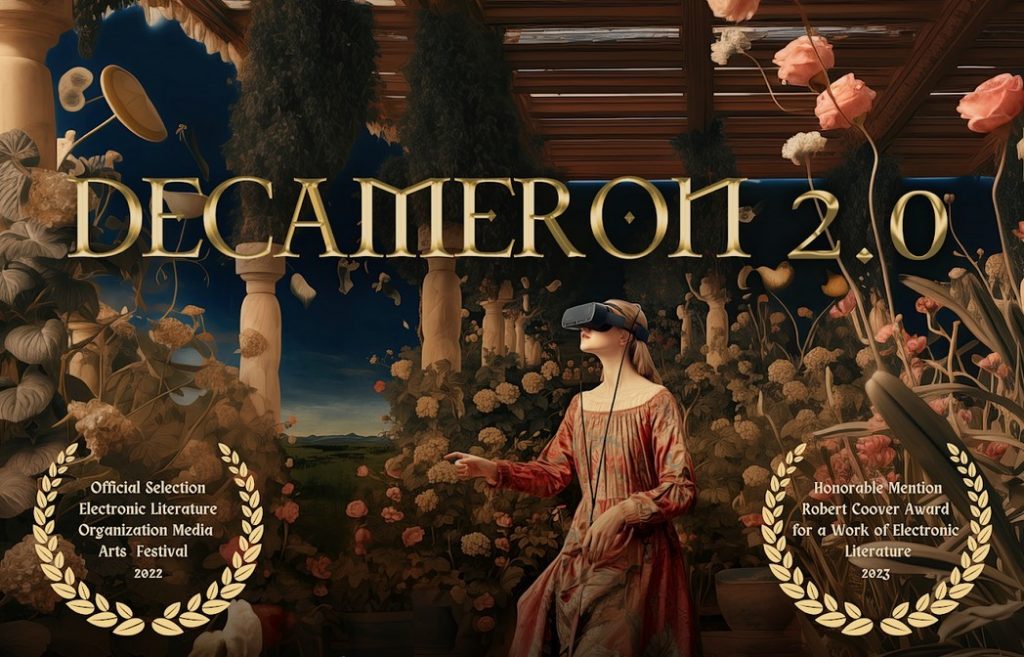 Artwork name
Decameron 2.0 (2022)

Artist names
Jolene Armstrong, Kelly Egan, Lai-Tze Fan, Caitlin Fisher, Angela Joosse, Siobhan O'Flynn, Kari Maaren, Izabella Pruska-Oldenhof, and Monique Tschofen

Brief description
Decameron 2.0 (2022) is an interactive explorable web-based world that takes its cue from Giovanni Boccaccio's medieval narrative set in Florence during the Black Plague. Featuring 100 co-created poetic thought experiments, it offers an audio, video, and textual living archive of life during the pandemic that centers women's experience.
URL of the project – https://ghostlahoma.itch.io/elo
Browser
Artwork name
Rekindle: The Prison of Memory

Artist names
Huafeng(Hector) Fan, Jinyu Qian, Xuedan Gao

Brief description
"Rekindle: The Prison of Memory" is an immersive, multi-sequential VR narrative that challenges and redefines traditional storytelling paradigms. Set against the haunting backdrop of a dystopian future, the narrative intricately weaves a tale where a regime enforces a stringent heteronormativity through the sinister manipulation of memories. The protagonist, Vincent, propelled by a cryptic message, embarks on a journey to reclaim his lost memories, discover his true identity, and unveil the world's dark truths along the way. By immersing interactors within the psyche of the gay protagonist in a dystopian world, we invite individuals from diverse backgrounds to intimately connect with Vincent's journey, thereby challenging societal norms and confront the barriers of imposed heteronormativity.
VR
Artwork name
Soup Stories

Artist names
Raz Aron

Brief description
After surviving Auschwitz, my grandmother made a conscious decision to never eat soup again. Despite this personal sacrifice, she remained committed to passing down the cherished tradition of crafting her renowned chicken soup to four generations of women within our family. This soup, with its unique blend of flavors and secrets, has not only transcended time but has also intertwined itself with my very sense of self. Introducing "Soup Stories," an emotional narrative that unveils the poignant journey of Grandma Ida as seen through my own recollections. Within this virtual experience, the memory of her story fragments into pieces, then reassembles into images, emotions, flavors, and a sense of belonging, before finally dispersing into the endless expanse of space. The captivating aspect is that this soup, rich in history and significance, doesn't come with a recipe. Instead, it carries with it the essence of generations past, connecting us through its unspoken legacy.
Artwork name
Once Upon a Dream

Artist names
Ron Shalev

Brief description
A narrative virtual reality experience based on voice recognition, scans of three-dimensional environments and their integration into a system of particles that reflect the memories of a girl named Lisa who is in a mysterious coma. The user embodies a father who is forced to enter into his daughter's dream in order to find her and wake her up. In her dream he's exposed to memories that reveal the reasons that led her to coma. It is a virtual reality experience about memories, communication and love. The project was selected to the shortlist BAFTA Yugo Student Awards – 2022
VR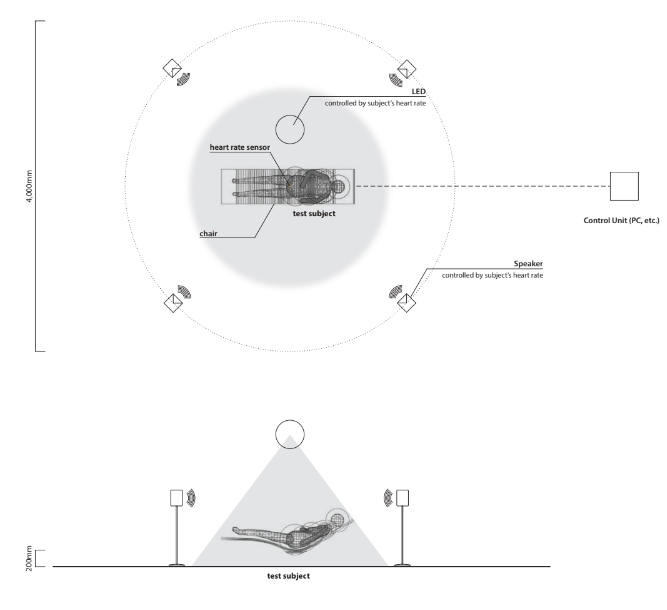 Artwork name
Orphée

Artist names
MATSUMOTO YASUAKI

Brief description
Orpheus, a Greek mythological figure who captivated people with his unique singing voice. His voice captivated not only wild animals, but also the king of the underworld. But when he passed away, the world was filled with sadness. But from his corpse his soul becomes a song, comforting those who mourn. The world was full of beauty. Every person has an irreplaceable song deep within their heart. This device is born from the deep heartbeat of those who experience it. He creates melodies that even others don't know.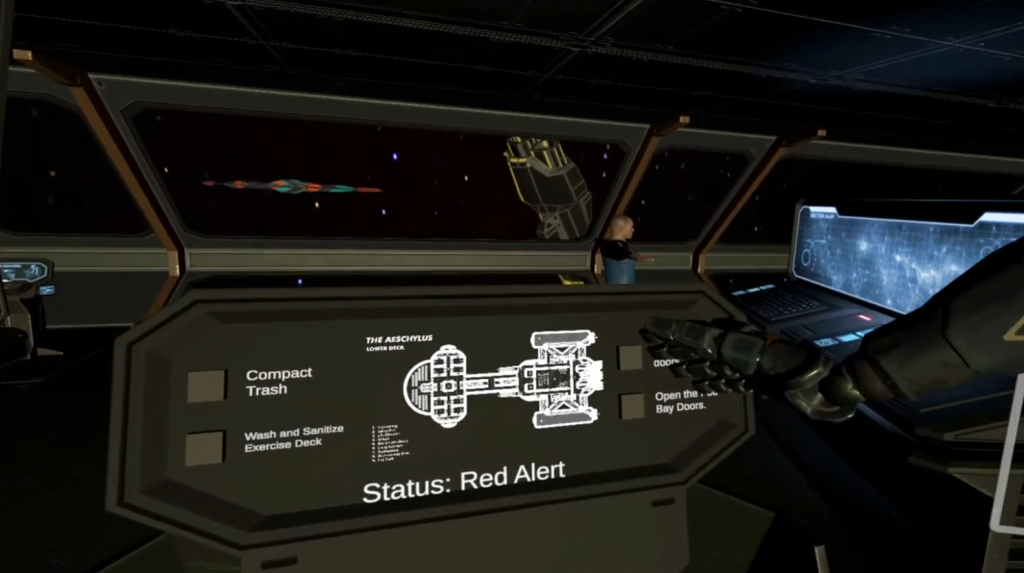 Artwork name
Shields Down

Artist names
John T. Murray, Mark C. Marino, María Cecilia Reyes

Brief description
"Shields Down" is a VR story where you're navigating trauma via a VR therapy system as Dex. When glitches occur, Dex must discern if the issue is the tech or their own emotional scars. The piece questions tech solutions for mental health and innovates in an emotion-driven interactive VR narrative.
VR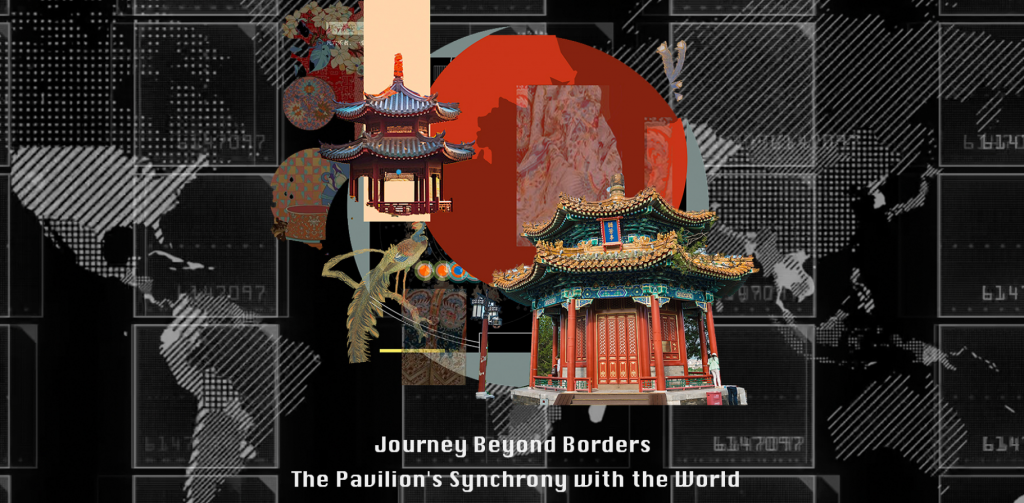 Artwork name
Journey Beyond Borders: The Pavilion's Synchrony with the World

Artist names
Ziwei Chi

Brief description
Architecture is a reflection of culture and environment, while a pavilion serves as a miniature architectural unit, a significant carrier of culture. The design presupposes the existence of a world where cultures freely drift and blend, transcending all boundaries. In this world, cultural elements flow and merge without restraint. For the real world, this is a heterotopia. The design creates an interface through weighted fusion of geographic coordinates and cultural symbols with pavilions. Through this interface, we can touch fragments of that world – be it a poem, a postcard, or a travelogue – allowing us to glimpse a corner of a world without cultural borders.
The work envisions a world of cultural fusion, where pavilions carry the integrated characteristics of various civilizations. Participants engage by providing descriptions on a web page, where keywords are captured to extract location information. Through weighted calculations, the corresponding fusion pavilion forms are deduced and presented to participants in the form of postcards or short poems. For example, it can speculate what a pavilion on an unknown island in the Pacific might look like based on the participant's input.
Artwork name
Mind Stories

Artist names
Mirjam Palosaari Eladhari

Brief description
Mind Stories is a tabletop story game for 2 – 4 players. In the game, friends unpack "Shadows" – emotionally challenging topics and relationships. A session revolves around a Shadow and the players' reactions to it. A narrative is created during play, guided by a story board that holds a sequence of cards to be played.
Tabletop Game
Artwork name
CLTRS

Artist names
Laureline Chiapello

Brief description
The video game CLTRS invites players to dive into a playful exploration of female sexual pleasure. Using a rolling avatar, players cruise through space, discovering the body's landscape with swift moves, sparking life wherever they go. Sometimes, to reach climax, you just have to explore!
Video game
Artwork name
A Horrible Fate

Artist names
Ashley Turkson

Brief description
My interactive story, A Horrible Fate, is based on Child marriage in Ghana. Child marriage remains a tragic reality in some parts of Ghana where young girls are unwillingly thrust into marriages with older men. Families give up their teenage daughters, most of whom are not yet adults, to older men in marriage without the consent of the child. These girls are forced to give up their lives. I told this story because I wanted to share what was going on and want people who interact with the story to put themselves into the shoes of these young girls who have no control or say when it comes to child marriage. Using Twine, A Horrible Fate unfolds as an immersive, non-linear narrative. It delves into the harrowing experiences of two young girls ensnared in the cruel practice of child marriage. This interactive format allows readers to navigate a rich multi-faceted storyline.